Private aerospace company Firefly Aerospace has completed the first successful orbital launch of its Alpha launch vehicle, which is designed to deliver small satellites into space. The execution of the Alpha Flight 2: To The Black mission, in which a 29-meter rocket was launched from the Vandenberg Space Force Base location, began on October 1 at 03:01 local time (10:01 Moscow time).
As the name of the mission suggests, this was Firefly Aerospace's second attempt at an orbital launch. During the first test launch last September, one of the Reaver engines used in the first stage of the launch vehicle stopped working shortly after liftoff and Alpha exploded in the third minute of flight.
This time, the launch went smoothly, and Alpha managed to climb into the sky of California, and in the third minute of the flight, the first stage separated. The upper stage entered an elliptical transfer orbit about five minutes later. It took less than an hour for the carrier to reach a low Earth orbit with an altitude of about 300 km.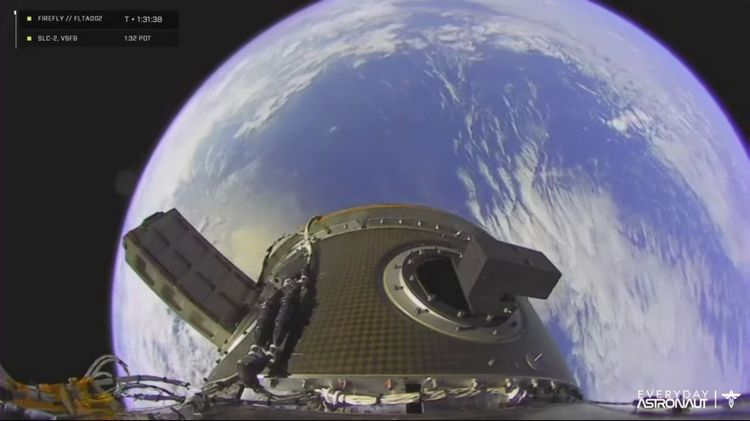 All three miniature satellites aboard Alpha for the current mission were successfully deployed into orbit. One of them, called Serenity, was created by the non-profit organization Teachers in Space. It is designed to collect various data, which will then be transmitted to the research community.
The second satellite, TechEdSat-15 (TES-15), was developed by the US National Aeronautics and Space Administration (NASA) in collaboration with San Jose State University in California. The device is equipped with a deployable exoatmospheric braking device, which will bring the satellite out of orbit. This device will also be used to optimize the process of transmitting data from a miniature satellite to Earth.
The third satellite, called PicoBus, was developed by the non-profit organization Libre Space. It carries five small "picosat" craft, which are designed to perform a variety of experiments, including a demonstration of a pulsed plasma thruster system, communications experiments and testing of remote sensing technology.
If you find an error, select it with the mouse and press CTRL + ENTER.