The US National Aeronautics and Space Administration (NASA) is poised to conduct the first orbital flight of the Space Launch System spacecraft and the Orion spacecraft as part of the Artemis 1 lunar mission. The launch will be done again today during the two-hour window, which opens at 09:04 Moscow time.
The launch vehicle lifts off from pad 39B at the Kennedy Space Center in Florida. Everyone will be able to follow the preparation of the rocket for flight and directly its launch. The online broadcast will be conducted on the official website of NASA and on the YouTube channel of the Department of Aeronautics.
Remember, this is not the first time NASA is preparing an SLS rocket for launch. The first attempt was scheduled for August 29, 2022, but the launch was canceled due to problems with the temperature sensor on one of the engines and a fuel leak. The second attempt was scheduled for September 3, but the launch was also canceled after a hydrogen leak was discovered. The next launch window opened on September 27, but due to Tropical Storm Ian, the launch was canceled and the rocket was sent to a hangar for storage.
According to NASA experts, favorable weather conditions will be established today with a probability of 80%. If today's launch does not happen, the agency can make another attempt on November 19.
While the Artemis 1 mission is unmanned, it is critical to the entire US lunar program. A few minutes after launch, the SLS rocket will deliver the Orion spacecraft into outer space, after which it will separate from the carrier and go on a 25.5-day journey. During this time, the ship must automatically fly around the moon and return to Earth. It should be noted that in addition to the Orion spacecraft, the SLS rocket will deliver 10 miniature satellites into space, designed to carry out various studies.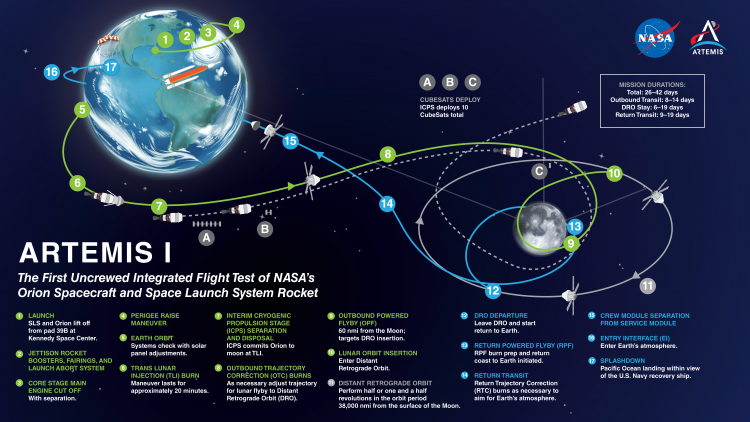 If the mission is successful and the SLS system proves its viability in practice, a crew of astronauts will go on the next flight as part of the Artemis 2 mission on Orion. The Artemis 2 mission involves a crewed Orion orbiting the moon and returning to Earth, scheduled for 2024. In 2025, NASA plans to launch the manned Artemis 3 mission, which will land astronauts on the moon. For this, it is planned to use the SpaceX Starship HLS descent module. Already, the aviation department has selected 13 sites in the region around the moon's south pole, where a landing can be carried out.
If you find an error, select it with the mouse and press CTRL + ENTER.