SpaceX is preparing to implement the first completely civilian mission Inspiration4, where a crew of four will go into space for three days, which does not include a single professional astronaut. The launch of the Falcon 9 launch vehicle with the Crew Dragon spacecraft will take place on September 16 from the Kennedy Space Center at Cape Canaveral.
This flight will be another milestone in the development of space tourism, for which this year proved to be quite productive. Earlier this year, crews led by the owners of private space companies Blue Origin and Virgin Galactic visited suborbital space. Billionaires Jeff Bezos and Richard Branson were among the first passenger ships created in their company and are designed to deliver tourists to outer space.
The Inspiration4 mission would not be complete without a billionaire crew member either. The flight is funded by Jared Isaacman, 38, who is the founder and CEO of Shift4 Payments, a digital payment processing company. He paid for the three-day mission and became one of the crew members.
29-year-old Hayley Arceneaux, a surviving bone cancer and currently assistant physician at St. Jude. Arsenault, who will take over as the crew's chief physician, will also be the youngest American woman to fly into space. They will be accompanied by US Air Force veteran Chris Sembroski, 42, and Sian Proctor, 51, a US scientist, geophysicist and licensed pilot.
According to available data, the launch of the Falcon 9 rocket with the ship Dragon, on board which will have a civilian crew, should take place in a five-hour window, which opens on September 16 at 03:02 Moscow time. . SpaceX plans to stream the event live. At present, weather conditions that are favorable for the launch are forecast with a probability of 70%. As part of the Inspiration4 mission, Crew Dragon and her crew will spend three days in Earth's orbit, after which they will enter the atmosphere and land off the coast of Florida in the Atlantic. If successful, this mission will be a major breakthrough in space tourism.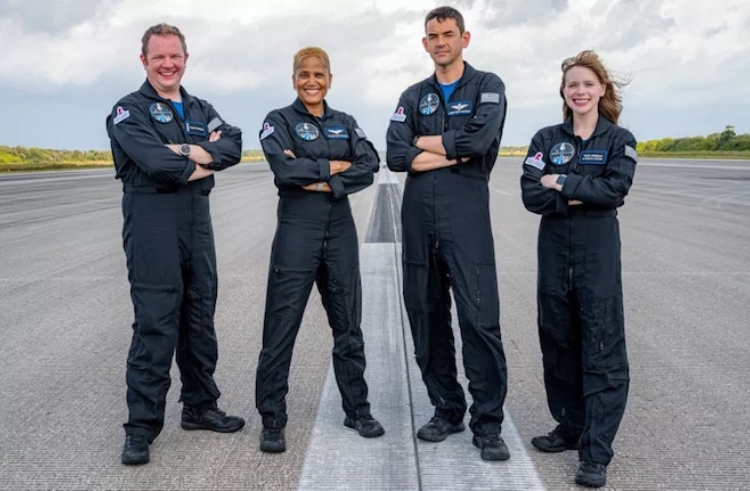 The Inspiration4 mission will generally be similar to the usual launches of SpaceX spacecraft to the International Space Station, but this time docking with the orbital station will not be provided. Instead, a manned spacecraft will orbit the Earth 15 times a day and observe the planet's surface from an altitude of 580 km. According to SpaceX, the Crew Dragons orbit will pass over the site of the ISS and the Hubble Space Telescope.
Please note that during the flight, crew members will not be free at all times. They intend to carry out several medical experiments, thanks to which they plan to obtain important data for future manned assignments. The crew members on the Inspiration4 mission began training for spaceflight already in March this year, after completing a full-fledged course.
If you find an error, select it with the mouse and press CTRL + ENTER.